Phoenix Picture Book Award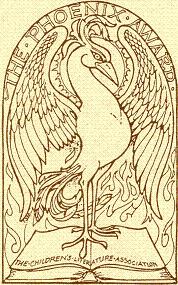 Established by the ChLA Board in 2010, the Phoenix Picture Book Award is a companion to the original Phoenix Award and recognizes a picture book published twenty years previously that did not win a major award at that time, but that the committee has determined to be of lasting value. The award is innovative, for unlike most picture book awards, it will honor not only the illustrator, but also the author (if they are two separate people). Books are considered not only for the quality of their illustrations, but for the way pictures and text work together to tell a story (whether fact or fiction). Wordless books are judged on the ability of the pictures alone to convey a story.

The Phoenix Picture Book Award is inspired by the Phoenix Award which was designed by Caldecott-winning illustrator Trina Schart Hyman. The magical Phoenix on the award statue was specifically drawn for ChLA. The design was sculpted by Diane Davis, who was trained at the Johnson Atelier and Technical Institute of Sculpture, Princeton. Each brass statue is individually cast and inscribed with the year's winner.


The Children's Literature Association Proudly Announces the 2017 Phoenix Picture Book Award Recipient: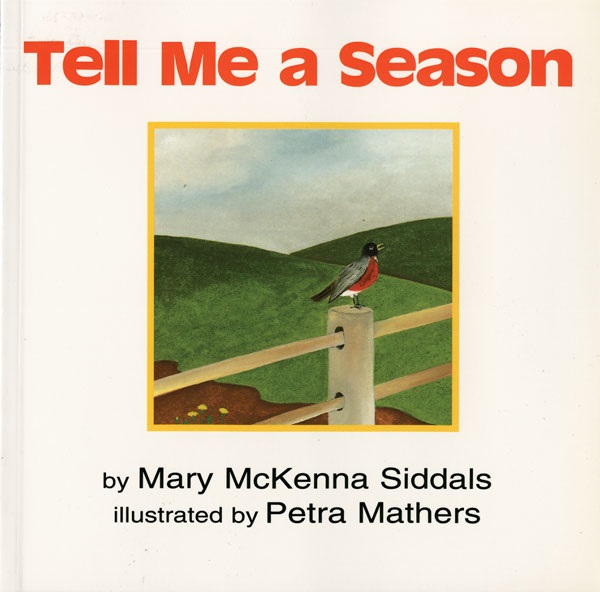 Tell Me a Season by Mary McKenna Siddals & Petra Mathers
Clarion Books, 1997
A lyric picturebook for the very young, Tell Me a Season presents three linked concepts—colors, time of day, and seasons—that move its readers through its graceful design and pacing to an affecting conclusion. The book exemplifies the merits of simplicity and judicious combination of word and image, detail and panorama in four symmetrical, temporal, and poetic visualverbal vignettes anchored in a single setting over the course of a year. Each of the four come together as an aesthetically pleasing and satisfying book that relates the representative activities of two country children, their cat and dog, and one other creature per season. The few declarative or descriptive words direct attention to specific conceptual details while the pictures convey the greater particulars of human and animal inhabitants' activities. The bareness in image and text, which is more akin to stark vulnerability, combined with the use of colour, is rich and reflective.
2017 Phoenix Picture Book Honor Book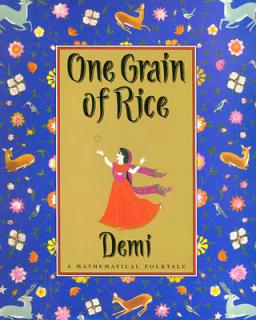 One Grain of Rice: A Mathematical Tale by Demi
Scholastic, 1997
Inspired by Indian miniature paintings, Demi's modern visualverbal retelling of this Indian folktale is enriched by reds, purples and golds. These colors denote both royalty and the cleverness and wisdom of Rani, the village girl who restores justice. The dominance of gold leaf is tastefully balanced by the use of white space, which serves to pace the unfolding story and its pages, comprised of well-placed text blocks and framed pictures, and to highlight the elements that dynamically exceed their frames. Rani is the queen of mathematics and its irrefutable logic, made manifest on the fold out pages.
Previous Winners:
2016
Winner: Molly Bang for Goose (Blue Sky Press, 1996) - 2016 ChLA Conference Speech by Molly Bang
Honor Winner: Julius Lester and Jerry Pinkney for Sam and the Tigers (Dial Books, 1996)
2015
Winner: Sara Fanelli for My Map Book (HarperCollins, 1995)
Honor Winner: Charlotte Zolotow and Stefano Vitale for When the Wind Stops (HarperCollins, 1995)
Honor Winner: Kady MacDonald Denton for Would They Love a Lion? (Kingfisher, 1995)
2014
Winner: Raymond Briggs for The Bear (Julia Macrae Books, 1994)
Honor Winner: Peggy Rathmann for Good Night, Gorilla (Putnam Juvenile, 1996)
Honor Winner:Anne Isaacs and Paul Zelinksy forSwamp Angel (Putnam and Dutton, 1994)
2013
Winner: Kevin Henkes for Owen (Greenwillow, 1993)
Honor Winner: Denise Fleming for In the Small, Small Pond (Henry Holt and Co., 1993)