Phoenix Award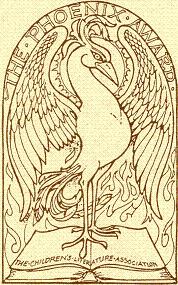 The Children's Literature Association, an organization of teachers, scholars, librarians, editors, writers, illustrators, and parents interested in encouraging the serious study of children's literature, created the Phoenix Award as an outgrowth of the Association's Touchstones Committee. The award, given to a book originally published in the English language, is intended to recognize books of high literary merit. The Phoenix Award is named after the fabled bird who rose from its ashes with renewed life and beauty. Phoenix books also rise from the ashes of neglect and obscurity and once again touch the imaginations and enrich the lives of those who read them.
The recipient of the Phoenix Award has been chosen each year since 1985 by an elected committee of ChLA members that considers nominations made by members and others interested in promoting high critical standards in literature for children. Honor books were instituted in 1989 but have not been named every year.
The Phoenix Award was designed by Caldecott-winning illustrator Trina Schart Hyman. The magical Phoenix on the award statue was specifically drawn for ChLA. The design was sculpted by Diane Davis, who was trained at the Johnson Atelier and Technical Institute of Sculpture, Princeton. Each brass statue is individually cast and inscribed with the year's winner.
In 2003, the ChLA launched an annual electronic journal, The Phoenix Award Papers. Each issue includes conference papers on the year's Phoenix Award book and Honor book, and the acceptance speech (when available) by the award winner. The Phoenix Papers from 2000 through 2010 are available exclusively online through the Phoenix Papers page.
The Children's Literature Association Proudly Announces the 2016 Phoenix Award Recipient:
Frindle by Andrew Clements
Simon & Schuster Books for Young Readers, 1996
Aladdin Paperbacks, 1996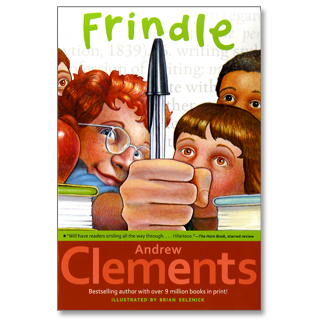 A "frindle"--according to Urban Dictionary, AllWords.com, Merriam-Webster online, and other sources--is a pen. The word first appeared in Andrew Clements's 1996 novel, featuring Nick Allen, whose clever "thought grenades" aim at getting teachers off topic. He meets his match in his fifth-grade teacher, Mrs. Granger. When she assigns a report on where the words in dictionaries come from, Nick takes the subject seriously, creating a new word for pen. Soon all the kids are using Nick's neologism. Despite Mrs. Granger's objections, the word frindle quickly gets attention beyond the classroom, throughout the city, the country, and the rest of the world. Clements captures the spirit of authentic learning and celebrates the pleasure and power of language. Frindle also demonstrates how a good teacher can inspire students and, more important, how a single person can change the world. The children's book world--indeed, the whole world--needs more troublemakers like Nick, more decent parents like the Allens, and more "villains" like Mrs. Granger.

Past Phoenix Award Winners
(please click on the year for more details about the winning books)


2015 Winner: One Bird by Kyoko Mori (Henry Holt & Company, 1995)
2014 Winner: Jesse by Gary Soto (Scholastic, 1994)

Honor Book: Under the Blood Red Sun by Graham Salisbury (Yearling, 1994)

2013 Winner: The Frozen Waterfall by Gaye Hiçyilmaz (FSG, 1993)

Honor Book: Malcolm X: By Any Means Necessary by Walter Dean Myers (Scholastic, 1993)

2012 Winner: Letters from Rifka by Karen Hesse (Henry Holt and Company, 1992)

Honor Book: Morning Girl by Michael Dorris (Hyperion Books, 1992)

Honor Book: Taste of Salt: A Story of Modern Haiti by Frances Temple (Orchard, 1992)

2011 Winner: The Mozart Season by Virginia Euwer Wolff (Henry Holt and Company, 1991)

Honor Book: Stepping on the Cracks by Mary Downing Hahn (Clarion/Houghton, 1991)

Honor Book: The Striped Ships by Eloise McGraw (McElderderry, 1991)

2010 Winner: The Shining Company by Rosemary Sutcliff (Farrar/Straus/Giroux and Bodley Head, 1990)
2009 Winner: Weetzie Bat by Francesca Lia Block (HarperCollins, 1989)

Honor Book: Lucie Babbidge's House by Sylvia Cassedy (Crowell, 1989)

2008 Winner: Eva by Peter Dickinson (Delacorte, 1988)

Honor Book: The Devil's Arithmetic by Jane Yolen (Viking, 1998)

2007 Winner: Memory by Margaret Mahy (Dent, 1987; McElderry, 1988)

Honor Book:

Waiting for

the

Rain

by Sheila Gordon (Orchard, 1987)

2006 Winner: Howl's Moving Castle by Diana Wynne Jones (Greenwillow, 1986)

Honor Book: The Shadow in the Plate/The Shadow in the North by Philip Pullman (Oxford, 1986; Knopf, 1988)

2005 Winner: The Catalogue of the Universe by Margaret Mahy (Dent, 1985; Atheneum, 1986)

Honor Book: Fire and Hemlock by Diana Wynne Jones (Greenwillow, 1985)

2004 Winner: White Peak Farm by Berlie Doherty (Methuen, 1984; Orchard, 1984)

Honor Book: Angel Square by Brian Doyle (Douglas & McIntyre, 1984)

2003 Winner: The Long Night Watch by Ivan Southall (Methuen, 1983)

Honor Book: A Solitary Blue by Cynthia Voigt (Atheneum, 1983)

2002 Winner: A Formal Feeling by Zibby Oneal (Viking, 1982)

Honor Book: Story for a Black Night by Clayton Bess (Parnassus, 1982; Houghton Mifflin, 1982)

2001 Winner: The Seventh Raven by Peter Dickinson (Gollancz, 1981; Dutton, 1981)

Honor Book: The Night Journey by Kathryn Lasky (Frederick Warne, 1981)

2000 Winner: Keeper of the Isis Light by Monica Hughes (Atheneum, 1980; Aladdin, 2000)

Honor Book: The Fledgling by Jane Langton (HarperCollins, 1980)

1999

Winner:

Throwing Shadows

by E. L. Konigsburg (Atheneum, 1979)

Honor Book: The Disappearance by Rosa Guy (Delacorte, 1979)

Honor Book: Words by Heart by Ouida Sebestyen (Little, Brown, 1979)

1998

Winner:

A Chance Child

by Jill Paton Walsh (Macmillan, 1978; Farrar, 1978)

Honor Book: The Devil in Vienna by Doris Orgel (Dial, 1978)

Honor Book: Beauty by Robin McKinley (HarperCollins, 1978)

1997 Winner: I Am the Cheese by Robert Cormier (Pantheon, 1977; Dell, 1978)
1996 Winner: The Stone Book by Alan Garner (Collins, 1976, 1978, 1983; Dell, 1988)

Honor Book: Abel's Island by William Steig (Farrar, 1976)

1995 Winner: Dragonwings by Laurence Yep (HarperCollins, 1975; Harper Trophy, 1975; Scholastic, 1990)

Honor Book: Tuck Everlasting by Natalie Babbitt (Farrar, 1975; Bantam, 1975)

1994 Winner: Of Nightingales That Weep by Katherine Paterson (Crowell, 1974; Kestrel, 1976; Avon, 1980; Harper Collins, 1989)

Honor Book: Listen for the Fig Tree by Sharon Bell Mathis (Viking, 1974)

Honor Book: My Brother Sam Is Dead by James Lincoln Collier and Christopher Collier (Four Winds, 1974)

1993 Winner: Carrie's War by Nina Bawden (Gollancz, 1973; Lippincott, 1973; Puffin, 1974; Dell, 1989)

Honor Book: A Proud Taste for Scarlet and Miniver by E. L. Konigsburg (Atheneum, 1973; Dell, 1985)

1992 Winner: A Sound of Chariots by Mollie Hunter (H. Hamiton, 1972; Harper, 1972, 1988)
1991 Winner: A Long Way from Verona by Jane Gardam (H. Hamilton, 1971; Macmillan, 1971, 1988)

Honor Book: A Game of Dark by William Mayne (H. Hamilton, 1971; Dutton, 1971)

Honor Book: The Tombs of Atuan by Ursula LeGuin (Atheneum, 1971)

1990 Winner: Enchantress from the Stars by Sylvia Louise Engdahl (Atheneum, 1970; Aladdin, 1989; Walker, 2001; Firebird, 2003)

Honor Book: Ravensgill by William Mayne (H. Hamilton, 1970; Dutton, 1970)

Honor Book: Sing Down the Moon by Scott O'Dell (Houghton Mifflin, 1970)

1989 Winner: The Night Watchmen by Helen Cresswell (Faber, 1969; Macmillan, 1969; Aladdin, 1989)

Honor Book: Brother, Can You Spare a Dime? by Milton Meltzer (Knopf, 1969)

Honor Book: Pistol by Adrienne Richard (Little, Brown, 1969, 1989)

1988 Winner: The Rider and His Horse by Erik Christian Haugaard (Houghton Mifflin, 1968)
1987 Winner: Smith by Leon Garfield (Constable, 1967; Pantheonm 1967; Penguin, 1968; Dell Yearling, 1987)
1986 Winner: Queenie Peavy by Robert Burch (Viking, 1966; Dell Yearling, 1975; Puffin, 1987)
1985 Winner: The Mark of the Horse Lord by Rosemary Sutcliff (Oxford, 1965; Walck, 1965; Penguin, 1983)

Phoenix Award Recipient Speeches

Karen Hesse (2012) video
Virginia Euwer Wolff (2011) video
Peter Dickinson (2008)
Berlie Doherty (2004)
Zibby Oneal (2002)
Peter Dickinson (2001)
Monica Hughes (2000)